Greetings! I am finally back with the long overdue second part of my Steins;Gate set overview. I previously looked at the some yellow cards from the set and the trial deck cards. This time I will look at some of the best things that the red portion of the set has to offer. As usual all of the images and translations are taken from the Heart of the Cards website. I have some cool cards and combos to show with you, so let's get started!
The brainstorm effect is a pretty standard one with a good cost. Rest self brainstorms are always superior to their rest 2 counterparts. And the salvage effect for each climax hit is always a good option to have in a deck. The card's second effect is actually better than it sounds. You can remove cards from deck that have top checked on your opponents turn, possibly force a refresh damage if their is only card in the deck, and possibly cause their trigger to be a climax. It also could potentially let you hand fix and remove a damage on your opponents' turn. It is not perfect as you could mill an opponents climax essentially preventing them from triggering and losing a climax to their stock. Also the salvage brainstorm effect is not as good as a search effect. However, the upsides outweigh the downsides on this card in my opinion.
The next card is decent secondary level 1 option. In a pinch you can use this to take out opponents walls and trade characters. Level 1 bombs are not great in all scenarios but they also are not terrible either. Trading characters is not as great as winning a battle outright but if you are a facing a monster size level 1, then it is certainly worth it. This card does have a nice secondary effect with the 1500 power pump. This is useful in decks such as the standby variant (which will be touched upon more later) or decks which run the on reverse combos. It also helps you win other battles on the stage. Overall, this is not a bad card.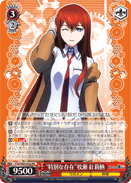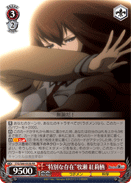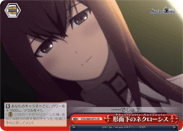 This is a nice and potentially potent level 3 combo and arguably the best one that the set has to offer. The Kurisu helps you gather the climax with it's on play effect and gets to a decent power size (13500 +) on attack if you include the climax power pump. It also has the interesting quirk of letting you control how much damage you deal with combo which is cool. You simply decide how much damage you will deal by managing the number of level 3s that you want on the stage during the field. Triple fielding the Kurisu means you will attack for 3 damage with the combo which is a good number. Either it will stick and essential be another regular attack for it will flush out climaxes for your attacks. It's really a win/win in the scenario. If you need to or want to do less damage then you could save Kurisu's for future turns. The card/combo isn't perfect. You do need a fair amount of stock and hand to do this multiple times and the Kurisu is really weak on defense meaning it likely won't survive for a second cycle. You can plan or work around these flaws though. Overall, though it is a nice finishing option.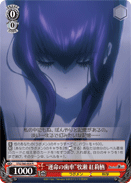 This card is a global 500 assist with a secondary effect than can be useful in the set. A couple of the cards in the set play off of the level swapping to gain bonuses and this one of the main engines for that. The level swap can be useful in multicolored decks to color fix or to get specific cards in the level zone. There are cards that require cards in the level zone for their effects so this makes those effects much easier to pull off. This is likely a staple card in most decks for the set.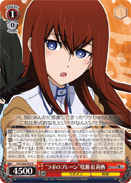 This card can serve two nice purposes. It first acts a 6500 power assassin on the turn it's played. While it doesn't have the biggest power level, it is big enough to get over most level 1s especially with some help. This also has another bonus by allowing to you to search a Kurisu or Mayuri from deck when it kills something on the initial turn. This is a strong effect at level 1. You get a secondary option for hand sculpting and suffer less if you have a game where you can't execute your level 1 combo. The character restrictions will stop this from being played in a few decks but most decks will have a lot of Kurisu and Mayuri cards to play. I think this is a nice backup option at level 1.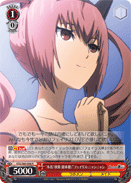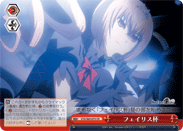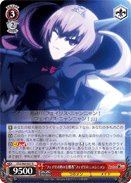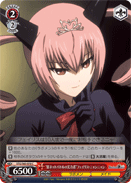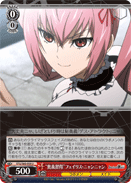 These five cards form the center of the set's Standby deck variant. I'll start with the climax combos. The Standby climax combos with two cards. The level 1 combo works in sync with the Standby effect. For those unaware, the standby effect lets play you a card from from the waiting room to stage with a level up to 1 level above your current level. So to simply at level 0, you can standby a 0 or 1, at lvl 1 it brings up to a level 2, at level 2 and 3 it brings up to a level 3. The character is in a rested state when the effect occurs meaning it can't attack. The level 1 allows you for one stock to stand a rested character. For 1 stock you basically then can attack with that character. It certainly can be useful if you are pressed for playable cards on your turn.
The second combo is a really nice level 2 and 3 combo. The Faris can be summoned as early as level 2 via the standby effect or it's early play condition. It's also a healer which is nice at level 2. The real meat is the combo which not only lets you ping for damage but allows you to salvage on reverse. This combo is optimized at level 2 where you are more likely to reverse something, might want to start pushing some more damage and am looking for other level 3 pieces. The fact that this combos with the standby is also nice because you get extra utility out of only 1 climax slot and can play another endgame combo. This works really well with the Kurisu combo discussed above.
The final 2 cards are nice additional pieces for the engine. The level 2 Faris is a beefy character to deal with at level 1 and at times can hold it's own at level 2. For the standby deck type, you want beefy characters that will last for a few turns maximizing the benefit of not paying stock for it. I feel the brainstorm is a perfect fit for the Standby variant as the Draw 2, ditch 1 works really well here by giving you another option to add Standby targets to your waiting room. Also the power pump is really useful on attack as it helps the Standby targets keep on the field and make them even bigger. The Standby deck would be one instance where I would say run this type of brainstorm effect.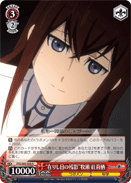 This level 3 is a nice utility option for an endgame. It is a 12000 power character on both turns in most cases and is for all intents and purposes a cost one character. It allows you to handfix on play and make it easier to get any missing endgame combo pieces. It is also a solid target for the standby decks as well though you don't get the on play hand fix effect if you do that. It is a nice card to include at one or two copies in a deck.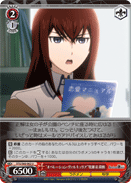 This is certainly a late game assist of choice especially in decks which run the Standby climax or advance summons. It serves a nice way to wall up at level 2 or to get reverses at level 2 and 3. There are no real downsides to playing this card and not much to really discuss. It is a simple yet effective card.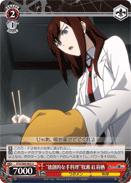 Finally, we have a nice level 3 killer. This character attacks level 3s as a 12500 level 3 character and can't be hit by counters which specifically target such characters. This is the main play in a Kurisu waifu deck or any deck which does not play any early play cards. This is also a nice backup option if you can't meet the early play conditions such as with the Okabe level 3 discussed in the previous post. This card is definitely a viable option for late game play.
The cards discussed above are just a portion of the useful cards that you can find in the set's red portion. I feel that many of these cards should be staples in most Steins;Gate decks and are certainly worth picking up.
So there you have it, part 2 of the Steins;Gate set overview is now complete. Next up, I will look at the set's green cards. Stay tuned for that coming soon. So until next time, this is Railgunfan75 signing off. Remember to show consideration and respect to those around you no matter what your differences are. It goes a long way.  And of course stay geeky my friends!